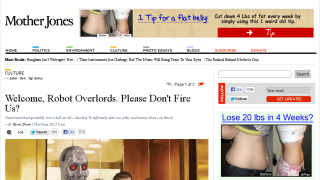 Smart machines probably won't kill us all—but they'll definitely take our jobs, and sooner than you think.
And guess who will own all these robots? People with money, of course. As this happens, capital will become ever more powerful and labor will become ever more worthless. Those without money—most of us—will live on whatever crumbs the owners of capital allow us.
It's easy to joke about our future robot overlords—R2-D2 or the Terminator?—but the challenge that machine intelligence presents really isn't science fiction anymore.
Read…