Facebook Hires Google's Dugan to Lead Hardware Research Unit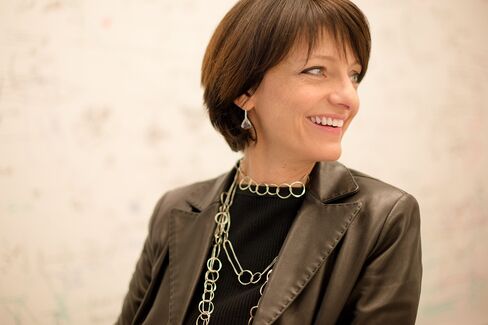 Dugan, former DARPA director, to head up Building 8 group

Investment will be `hundreds of millions,' Zuckerberg says
Facebook Inc. hired Google's Regina Dugan to head up a new research and development group focused on hardware, called Building 8, part of a push by Chief Executive Officer Mark Zuckerberg to connect people in new ways, from messaging to virtual reality.
Dugan, who leads the Advanced Technology and Products group at Alphabet Inc.'s Google, will direct efforts to build hardware that uses Facebook's software and complements technologies from Oculus VR and the company's artificial intelligence research unit. Dugan, also a former director of the U.S. military's Defense Advanced Research Projects Agency, will bring DARPA-style development merging products and science to Facebook, Zuckerberg said in a Web post.
"This method is characterized by aggressive, fixed timelines, extensive use of partnerships with universities, small and large businesses, and clear objectives for shipping products at scale," he said. "We'll be investing hundreds of people and hundreds of millions of dollars into this effort over time."
Dugan's move to Facebook shows the social network wants to encourage more innovation. The Menlo Park, California-based company has been building a mixture of new technologies to help connect the rest of the world to the Internet, including solar-powered drones designed to fly for months at a time at an altitude higher than planes, beaming Web connectivity. The company is also using a mix of radio, satellite and laser technologies to spread the Internet to rural communities.
"She is going to be building things that are mission aligned," Facebook Chief Technology Officer Mike Schroepfer said in an interview with Bloomberg TV's Emily Chang. "Everything we do here is to connect the world. She'll be doing a bunch of new things you haven't seen from us, that maybe like Oculus will be a little confusing in the beginning, in terms of how you put the pieces together, but it will all come together in terms of our mission."
At the company's F8 developer conference Wednesday in San Francisco, Vice President of Engineering Jay Parikh talked about Project Aries, which adds antennas to radio towers to increase their capacity, and a project to attach chips that spread low-cost spectrum via lamp posts.
Dugan's Projects
At Google, Dugan was tasked with taking brand-new technologies and getting them into early stage products. Her group sat between Google's product-development organizations and its longer-term X division. Technologies developed at ATAP included smart fabrics wired with electronics, new forms of phone security, and the Tango project that created mobile devices with 3D-mapping capabilities.
"Building 8 is an opportunity to do what I love most... tech infused with a sense of our humanity," Dugan wrote in a Facebook post. "There is much to build at Facebook."
Google's ATAP was born out of the company's acquisition of Motorola. Dugan was recruited by Alphabet Chairman Eric Schmidt to "build a small, lean, skunk-works-like group that is not afraid of failure," she said in 2012. Though Google ultimately divested itself of Motorola, it kept ATAP.
Losing Dugan is a blow for Google, which had positioned her as the public face of some of its more advanced projects. She was given speaking time at high-profile events, like the company's Google I/O developer conference, and at external conferences, like South by South West in Austin, Texas. It is not immediately clear who will replace her. Some ATAP projects, such as Project Ara, a high-profile ATAP project to build phones out of modular components, are set to shift out of ATAP into others parts of Google in the coming weeks and months, said a person familiar with the matter.
"We thank Regina Dugan for all her leadership and contributions as part of the Advanced Technology and Projects group, and wish her the very best," Google said in a statement.
Dugan would give projects at Google about two years to prove themselves before deciding whether to increase investment or kill the idea. Her group's job was to inject Google with some of the rapid development associated with scrappy startups, rather than multinational conglomerates. When Google decided to put its Boston Dynamics robot division up for sale, company executives spoke approvingly of the rapid development of Dugan's group.